Owensboro Personal Injury Attorneys
Filing a Personal Injury Lawsuit in Daviess County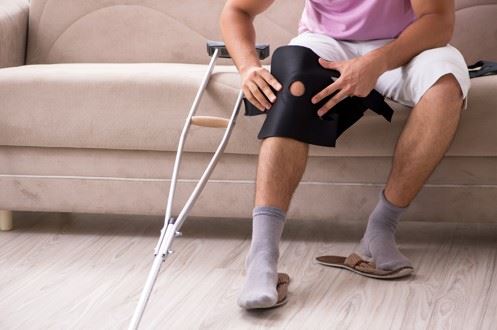 A sudden accident or unexpected injury can leave you facing significant hardships, from massive medical bills to weeks or even months out of work. Navigating these challenges is often incredibly painful, stressful, and costly; healing and getting back on your feet can seem like an insurmountable task.
Here at Kentucky Injury Law Center, we understand just how difficult it is to move forward after a serious injury, but the good news is you could be entitled to financial compensation. If your injuries were caused by someone else's negligent or reckless actions, Kentucky personal injury law allows you to file a claim with the insurance company or even bring a lawsuit against the at-fault party.
When you are already dealing with the aftermath of the accident, you shouldn't have to also worry about navigating the legal process. That's where we come in. Our personal injury attorneys in Owensboro can handle every detail of your case, from the initial investigation to settlement negotiations, so that you can focus on what matters most: healing.
Continue reading to learn more or contact us today at (270) 423-0023 to discover how our team can fight for you. Your initial consultation is completely free!
On This Page:
When Should You File a Personal Injury Claim?
Knowing when to file a personal injury claim can be difficult. How do you know if you have a case? What if the accident happened several months ago? What if it's been more than a year?
First and foremost, you should know that you have a limited amount of time to file a personal injury lawsuit in Kentucky. This deadline is known as the "statute of limitations," and it is one year from the date of the accident or injury. If you did not discover the injury right away, the one-year deadline typically does not begin until the date on which you realized you were injured. If more than a year has passed, you may not be able to file a lawsuit. However, there are some exceptions. Reach out to a member of our team right away to learn more.
Second, to determine if you have grounds for a personal injury claim, ask yourself the following:
Were your injuries caused by another person or party's carelessness, recklessness, or intentional actions or conduct?
Did the other person or party have a responsibility to act reasonably and take certain measures to make sure you (or others) were not harmed?
Would you have been injured if the other person or party had followed the law and/or acted reasonably and safely?
Did you suffer measurable losses, such as medical expenses, lost income, or pain and suffering, because of your injuries?
Even if you believe you may have been partly at fault for the accident or event that caused your injury, you could still be able to file a personal injury claim. Kentucky follows what is known as a "pure comparative negligence rule," which simply means that you can still file a claim and seek compensation for your injuries, even if you were partly to blame. However, you should know that if you were partly at fault, you won't be able to recover as high a settlement or verdict than if you were not to blame at all.
What Damages Can Be Recovered?
"Damages" is a legal term that refers to any losses you experience due to the accident and/or your injuries. This includes both losses that have a set dollar value, as well as those that are more intangible in nature.
Some examples of common damages recovered in personal injury claims include:
Ambulance and hospital fees
Medical bills
Medication and medical equipment costs
Future medical expenses
Lost income/wages from time off work
Loss of earning ability due to injury, impairment, or disability
Loss of future expected earnings
Pain and suffering, including both physical pain and emotional suffering
Miscellaneous expenses, such as in-home assistance/care, counseling services, etc.
Our personal injury lawyers in Owensboro can sit down with you to go over the specific details of your case. Every situation is unique, which is why we use a personalized, hands-on approach. Our team works hard to develop individualized legal strategies to fight for the maximum compensation you deserve.
What Is the Time Limit to File a Personal Injury Claim?
The time limit (also known as Kentucky's statute of limitations) allows for victims to file a personal injury claim for up to 1 year following the date of their injury. This is a relatively short timeframe compared to other states that sometimes allow claims to be filed up to 2-3 years after the incident occurred. Because of this short statute of limitations, it's important that you speak with an injury lawyer immediately following your accident and determine whether or not you have grounds for a lawsuit. Don't wait!
How an Attorney from Kentucky Injury Law Center Can Help
After a serious accident or injury, you need someone on your side who knows the law and can help you file your personal injury claim. You want an attorney who will not only negotiate for a fair settlement, but also one who is willing to take your case to trial if the insurance company refuses to play fair.
At Kentucky Injury Law Center, we provide honest, straightforward legal representation for individuals and families who are going through some of the most challenging times in their lives. We help clients who have been injured in car and motorcycle accidents, large truck and commercial vehicle crashes, workplace accidents, and more. Our goal is to help you understand your rights and allow you to focus on getting the proper medical care while we handle the legal aspects of your case.
The road to recovery can be long and difficult, but with our Owensboro personal injury lawyers by your side, you can feel confident knowing that you have a team that will fight for you every step of the way. We offer free initial consultations and contingency fees, meaning you do not pay any out-of-pocket expenses or attorney fees unless/until we recover a settlement or verdict in your case.
Get in touch with us today to learn how we can help you with your personal injury claim; call (270) 423-0023 or contact us online to get started.
Injured Delivery Person

It started with a call –someone had slammed into the back of our client's car while the client was on the job. The other driver had tried to pass our client over a solid yellow line because he didn't see that she was turning. Our client had neck surgery and didn't know what to do.

Workers' Compensation for a Police Officer $150,000

Our client was a 30 year veteran for law enforcement officer whose career ended after a tragic shooting. The officer had worked his way up the chain of command, starting as a patrol officer and ending as a Lieutenant.

Workers' Compensation Settlement $130,000

J.D. approached Kentucky Injury Law Center after the insurance denied his claim. JD had previously undergone back surgery but had fully recovered from that surgery when he injured his back while working for his new employer.

Settlement for Utility Lineman Falling on the Job $100,000

N.W. suffered serious injuries after falling from 20 feet working as a utility lineman. The insurance company paid for N.W.'s medical bills and paid him TTD income benefits when N.W. was released from work, the insurance carrier sent him a settlement offer for $20,000.00 to settle his work compensation claim.

Severed Thumb on the Job Settlement $70,000

Like many injured workers, J.H. thought his employer would take care of him after injury severing part of his thumb while helping the employer is a secondary business. The employer tried to claim that J.H. was not an employee of the secondary business and the insurance company denied giving J.H. any income or medical benefits.

Workers' Compensation for Traumatic Brain Injury $350,000

J.P. had been a hard worker all his life. He had worked at his employer for over 26 years, rarely missing a day. However, it only took one day for his life to change when a compressed coil spring got loose and struck him in the head, causing to fall and injure his back as well. J.P. suffered both a traumatic brain injury and traumatic back injury requiring several surgeries.

Settlement for Hydraulic Equipment Injury $150,000

K.G. injured his neck while working on hydraulic equipment. Initially, the insurance carrier argued that his neck condition was a degenerative condition and that it was not responsible for paying for any medical treatment.

Accident in Company Truck Settlement $150,000

J.W. had worked as a truck driver for over 10 years when he was involved in an accident while driving. J.W. thought he would be ok and did not seek immediate attention; however, that turned out not to be the case. He sought medical treatment and even though the insurance carrier paid for some of the medical treatment, it quickly paid its own doctor to state all of J.W.'s symptoms were not related to the accident.

Shoulder Injury Settlement $150,000

A.M. was an employee of a government agency in Louisville. He injured his shoulder at work and was not sure what the next steps were to take as he did not think he could return to his old job.